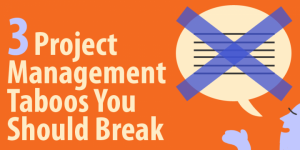 Project managers are doers and helpers – always striving to get things done on time, within target and with no excuses, while providing advice to others.
However, from time to time, project managers can give each other bad advice – and that advice can enter into the world of project management as a certainty – with no room for interpretation – and become a project management taboo.
Let's take a look at three of the most common project management taboos – and why you need to break them:
Giving your stakeholders the final say on project direction and delegation
It's fair to say that all project managers will make mistakes with their stakeholders at one point or another – but, to always have stakeholders having the final say on how a project is directed is bad practice. As the project manager, you should have full control over your process.
Although it can be tempting to consistently communicate with stakeholders in a bid to determine how they would like their project completed – as project manager, you have the experience and training required to get the project completed on time – in other words, don't be afraid to ask your stakeholders to let you get on and do your job if you feel that you are being slowed down by them.
Putting all of your focus on teamwork, collaboration, and communication
Collaboration is somewhat of a buzzword within project management – in fact, when shopping for project management software, many people will look for file sharing, email integration and time tracking features above all else.
For sure, collaboration is an important activity and essential to a successful project team, but, if you want to reach a final deliverable, you also need to be an enforcer – a manager that is too sensitive to the needs of their team members can do so at the cost of undelivered projects. In short, sometimes you need to be firm to get the job done.
Always playing by the rules
It goes without saying that there are certain processes that need to be in place, however, many project managers fall into the trap of using specific management methodologies over and over again, regardless of their usefulness to a project.
Although methods are important when learning how to manage people – and templates can provide guidelines on how to handle certain situations, don't be lazy by exclusively relying on these tools. Project management requires dynamic thought processes, creativity, and flexibility – if you find yourself over-relying on processes set by other people, you will lose out on opportunities to create and execute a system that is best suited to your own individual workplace and projects.
Off Peak Training can help you to break common project management taboos and approach your projects with a fresh mind – take a look at our all-inclusive course today: https://www.offpeaktraining.com/project_management-professional_pmp_training/