As we hit Fall project management professionals may be searching for a new job or a new proposal to sink their teeth into or looking to top up their qualification with Professional Development Units. In this blog, we'll be looking at some of the best practices for submitting for a project, for obtaining PDUs or preparing to lead your first project or proposal.
At the core of practical project management is an ability for keeping things simple and avoiding becoming bogged down in lengthy and unwieldy processes. But this does not mean cutting corners and good project management practice is vital. The Project Management Professional (PMP)® certification, offered by the Project Management Institute, can be applied to almost any industry around the world.
Following some key basic principles will give you a good grounding whether it's applying for a project proposal, looking for a new job, or considering how to obtain the necessary PDUs to maintain your certification through the Project Management Institute.
Keep it simple

Identify the stakes

Outline the benefits

Create a plan

Follow your ideas/proposals through to implementation.
The SMART acronym is an excellent tool for making sure your goals and instructions are: Specific, Measurable, Attainable, Relevant and Timed.
Interviewing for a project or job
If you've interviewed as a project managers directly for a specific position, then you will know most generic interview questions lists simply aren't relevant to use for practice before your interview. In general, those doing the hiring want to know if they're going to be getting someone with a "project manager's personality".
What they mean by this is that, as a person, you have a number of personality traits which are considered important for project management, the most important of which is strong communication skills and the ability to have both empathy and authority. Other traits to develop include great organization, modesty, foresight, pragmatism and the ability to understand your client/customer's needs and to exceed them.
Here are a few of the most common asked questions when interviewing for a project management role:
Why are you interested in this role?

– Consider this question to be a request to walk through your resume. Briefly outline what attracted you to the role that you're interviewing for, and then follow up with a few details about previous work and what makes you, you.

Tell me about your organizational skills

– Use specific stories to demonstrate how you keep your projects on track, be it with PM tools or paper. The interviewers just want to know that you can stay apprised of all of your project's moving parts.

Tell me about a time when your stakeholders didn't agree on a project. How did you proceed?

– Make sure to brainstorm stories about your former project management roles in anticipation of this question and use them as a confirmation that you have the mediation skills that these hiring managers are looking for.

Have you ever experienced project failure? What happened?

– Be as straight as possible when explaining the situation and what you did. Then, give the interviewer what they're really looking for, what you learned from the failure.

What projects do you not want to work on?

– Be honest. Are you more of a software development person? Do you do well with creative media campaigns? Would you rather lie down and die than work on a construction project?
Planning a proposal or project
Your first time being responsible for an overall project can be a bit frightening but getting the basics right on your initial project will give you the grounding for a successful career. The first thing to know is that time spent planning pays dividends. The more time you take preparing, the less chance there is that something will catch you unawares. As in the common saying used in household DIY projects: "measure twice, cut once."
Define the project clearly and have a document which:- describes the purpose of the project and key timing parameters; identifies key roles including the customer, the project manager, the project sponsor and the core team members; identifies key stakeholders and additional expectations for the project; and includes the timescale for completion.
Making the plan is important, but the plan can be changed, don't stick rigidly to it if alternative methods arise which may cut down on the time needed or if someone in your team comes up with an alternative suggestion. However, if the plan changes, make sure you document it and the reasons for the changes. Ensuring a paper trail ensures you have accountability for all stages of the project or proposal.
Successful project managers effectively lead the resources assigned to the project, including members of the project team, vendor staff, and subcontractors, ensuring those involved have the skills and tools they need to complete the job.
Acquiring PDUs and maintaining credentials
All PMI certifications, with the exception of CAPM, require holders to follow the Continuing Certification Requirements Program. The objective is to make sure that your certified competencies stay up-to-date and that your skills stay relevant.
You have to earn your PDUs over a three-year period which starts at the time that you first pass your exam. At the time of writing, the PMP® qualification requires you to earn 60 PDUs in those three years by doing qualifying activities.
It sounds manageable, but if you hold a couple of credentials, or intend to keep your certificates valid and active for the rest of your professional career, then the cost of continuing education can soon mount up. But there are ways to obtain free PDUs which still count.
Qualifying PDU activity must be relevant to the PMI® Talent Triangle topics, must meet a specific purpose and must use knowledgeable resources. The Triangle covers technical project management, leadership and business and strategic management.
Download our free PDF on how to maintain your credentials
Here at Off Peak Training we have a free downloadable PDF which goes into detail about how to obtain and maintain your PDUs.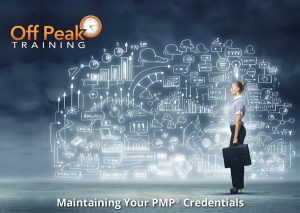 You can find it here: https://www.offpeaktraining.com/maintaining-pmp-credentials/or by clicking the image.
Remember, your PDU activity could be audited at any time and you could be asked to provide justification of your learning and continuous professional development through these routes. Don't pad out your PDU log with dubious activities. There are plenty of ways to learn, develop and claim PDUs for free as long as you seek them out.
We hope you found our blog helpful. If you have any questions about any of the project management topics we've raised, please feel free to contact us directly.